ABOUT CAREY CARUSO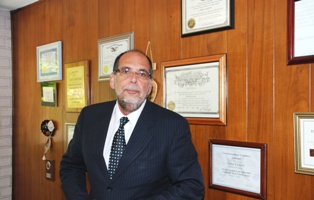 Carey Caruso was among those who graduated in the 1st Whittier Law School Class of 1978.
Since then he has been in private practice specializing in criminal defense work.
Mr. Caruso sits on the Evaluation Committee of the Lawyer's Assistance Program (LAP) run by the California State Bar. This program attempts to help attorneys with substance abuse problems and mental health issues.
He is the lawyer-coach for Woodrow Wilson High School in helping a class of students prepare for the Constitutional Rights Foundation California Mock Trial Program.
In 1989 he was elected president of the Italian American Lawyers Association.
He helped organize and participated in a legal clinic at Homeboys Community Center assisting that under serviced community with legal assistance.
He is co-chair of a local charity's Christmas Basket Food Packing which prepares and delivers 1235 boxes of foodstuffs (including a turkey) to needy families throughout Los Angeles the weekend before Christmas.
In 2008 Mr. Caruso was the recipient of Humanitarian Services Award from the Whittier Law School Alumni Association
A fairly recent endeavor is now an annual event where unwanted business attire/ clothing are collected and then delivered to the Union Rescue Mission on Christmas so the residents can have appropriate dress attire for job interviews.
Mr. Caruso is AV rated in Martindale-Hubble, past president of the Italian American Lawyers Association, member of the L.A. County Bar Association, the Criminal Courts Bar Association and the California Attorneys for Criminal Justice.
He is admitted to all California State Courts and all Southern California Federal Courts.
If you have a Criminal matter pending (or think you might), please feel free to call Mr. Caruso at 310-553-8580 to discuss your situation.